Glass fusing kiln Nabertherm GF 75
Used, perfect condition, professional series glass fusing kiln Nabertherm GF 75.
The heating elements, closely arranged, protected in quartz tubes, ensure a very high degree of temperature uniformity during fusing or during bending across the whole table surface.
Dual shell hood made of stainless steel with slotted cover lid
Level table surface with insulation made of robust lightweight refractory bricks and marked charge surface
Hood safety switch
Solid state relays provide for low-noise operation
Rapid switching cycles result in precise temperature control
Type K thermocouple
Hood easy to open and close, supported by compressed-gas springs
Lockable air inlet opening for ventilation, fast cooling and observation of charge
Robust base on rollers (two of them can be locked down) with tray for glass and tools
Comfortable charging height of 870 mm
Technical specifications:
max temperature 950 °C;
Inner dimensions (WxDxH) 620x620x310 (mm);
Power 3,6 kW, 220V;
Weight 180 kg.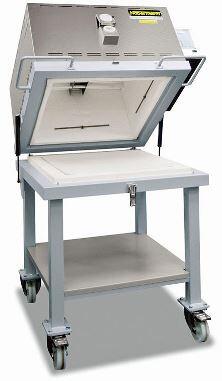 E-mail:  info@baltaxia.lt
Phones.:

+370 37 311545,
+370 699 90104,
+370 640 22077